Feast 2016 – Saturday, October 29th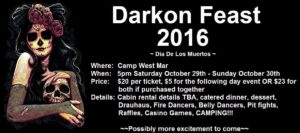 Come join us for a Dia De Los Muertos themed feast full of fun and excitement! We will have a delicious catered meal, desserts, Drauhaus, belly dancers, fire dancers, a Plasti-dipped shield being raffled off for gold, pit-fights, casino games and possibly even more to be announced! Oh and did I mention CAMPING?! Right, ladies & gents, this year we will be able to camp overnight at the site to wake up and enjoy the day event to follow on Sunday. Details on Cabin rentals will come shortly. Please note: NO LIVE STEEL is permitted at this event.
PRICES
$20 per ticket for feast, $5 for the day event.
$23 total for feast and the day event if purchased at the same time.
Please use the below section to purchase tickets via PayPal. No paper ticket is issued—your name(s) will be added to a list. Please make sure you enter the legal names of all attendees for whom you are purchasing tickets–you will be able to change quantities at checkout.
MENU
Garden Salad – iceberg & romaine lettuce tossed with grape tomatoes, cucumbers, shredded carrots & red cabbage, and croutons; served with assorted salad dressings
(vegetarian entree) Caprese & Cheese Tortellini Pasta – cheese tortellini, diced plum tomatoes, fresh basil & mozzarella sautéed with olive oil & chopped garlic
(entree) Herb Dusted Pork Loin – roasted, herbed dry rub marinated pork loin, sliced and drizzled with sesame-honey glaze
(entree) Chipotle Glazed Flank –grilled marinated flank steak coated with a spicy chipotle glaze
(side dish) Orzo with dried fruit & toasted pine nuts
(side dish) Fresh Vegetable Medley
(side dish) Au Gratin Potatoes
Assorted Rolls
Assorted Desserts